Nationally and internationally acclaimed visual artists and art collectives visit our campus to present lectures about their work and professional practices. Visiting artists and designers have a chance to meet with the students and larger Rutgers University–Camden community to continue the dialogue about perspectives on contemporary art. The main theme of our SPRING 2023 lecture series is Time-based/Video Art.
All lectures are free and open to the public. These lectures will be held from 12:45 pm to 1:45 pm (free period) in the Fine Arts Building, Room 110.
Janet Biggs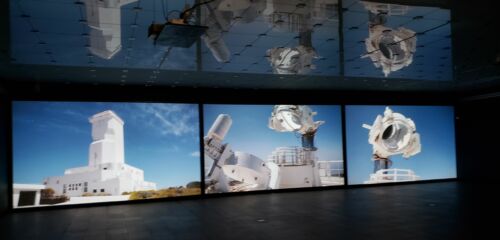 Janet Biggs is a research-based, interdisciplinary artist known for immersive work in video, film and performance. Biggs navigates territory between art, science and technology, focusing on individuals in extreme landscapes or situations. She has filmed inside active volcanos and in both polar regions. Biggs has worked with institutions from NOAA to NASA, collaborating with neuroscientists, astrophysicists and a robot named Shimon.
Biggs has had solo exhibitions and screenings at the Sarasota Art Museum, Spencer Museum of Art, Neuberger Museum of Art; SCAD Museum of Art; Blaffer Art Museum; Musee d'art contemporain de Montréal; and the Hirshhorn Museum and Sculpture Garden, among others. 
Her work and research have been supported by the John Simon Guggenheim Foundation, the New York State Council on the Arts, and the National Endowment for the Arts. Reviews of her work have appeared in the New York Times, New Yorker, ArtForum, ARTNews, and Art in America. 
For more information click
here.